MAKE THE EVERYDAY EXCEPTIONAL
Our passion for exceptional-tasting BBQ done the right way runs deep. That's why we created rubs and brines that bring out the spectacular flavor of whatever you're grilling or smoking. Check 'em out!



SAVORY. SPICY. SWEET. HEAT.
If you're looking for F L A V O R, you've come to the right place. Rubs and brines that really BRING IT. Smoldering, sophisticated Fire Honey. Melt-in-your-mouth caramels. Come and get it!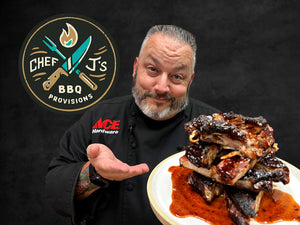 LIFE SHOULD BE DELICIOUS
Our BBQ Leader Chef J LOVES BBQ. Talking about it. Making it. Teaching it.
Chef J is a classically trained, certified executive chef who got burnt (ends) out working his (pork) butt off in chaotic kitchens. These days, He has a fire for creating his own rubs and brines, sharing his know-how, and amplifying his passion for grilling and smoking (and eating!) great-tasting food that you can make in your own outdoor space.
GET FIRED UP! LET'S GO!
Learn more
KNOW HOW
Recipes. Videos. Tips & Tricks.